My 13 Favorite Movies of 2013…so far:
1. Mud
2. This is the End
3. Afternoon Delight
4. The Way Way Back
5. Stuck in Love
6. Frances Ha
7. In A World
8. We're the Millers
9. The Spectacular
10. Don Jon
11. Short Term 12
12. Drinking Buddies
13. Star Trek Into Darkness
THE BEST MOVIES OF 2011:
Drive
The Future
The Artist
Bridesmaids
Hanna
Like Crazy
The Descendants
Jane Eyre
Win Win
Meek's Cutoff
Shame
Martha Marcy May Marlene
The Help
La Separation
RUNNERS UP FOR BEST OF 2011:
Warrior
Melancholia
The Adventures of Tintin
Puss in Boots
Mission Impossible: Ghost Protocol
Rango
The Muppets
DEEPLY UNDERRATED MOVIES OF 2011:
The Adjustment Bureau
One Day (I know, the ending is dumb)
Mr. Popper's Penguins
Harold & Kumar Christmas
I Am Love
Greenberg
I'm Still Here
Toy Story 3
True Grit
Applause
Black Swan
Never Let Me Go
Catfish
The Kids are Alright
Exit to the Gift Shop
Kick Ass
The Runaways
Agora
Another Year
Blue Valentine
The Tillman Story
UNFAIRLY IGNORED + ACTUALLY QUITE GOOD:
Going the Distance
The Switch
Morning Glory
BEST PERFORMANCES OF THE YEAR:
Paprika Steen in APPLAUSE
Andrew Garfield in NEVER LET ME GO
Hailee Steinfeld in TRUE GRIT
Antony Langdon in I'M STILL HERE
Greta Gerwig in GREENBERG
Chloe Moretz in KICK ASS
Ryan Gosling in BLUE VALENTINE
Juliette Lewis in CONVICTION
MY TOP 13 MOVIES OF 2009
Bright Star
District 9
Up
Paper Heart
Star Trek
Invictus (minus the first 30 minutes, which are quite dull)
Zombieland
Coco Before Chanel
The Fantastic Mr Fox
Valentino: The Last Emperor
The September Issue
Whip It
Taking Woodstock
HONORABLE MENTIONS:
State of Play
The Young Victoria
It's Complicated
Kiwi made a new video. You can see it on funnyordie.com…
http://www.funnyordie.com/videos/78f42728cf/the-multi-hyphenate
http://www.hulu.com/watch/70846/reel-moments-the-spleenectomy
THE UGLY TRUTH is going to be in a theater near you on July 24th. Here's a link to the official website, go there and get a little sneak peak of the movie.
http://www.theuglytruth-movie.com/
Kiwi was in the press quite a bit last year. Actually, she was in the press a lot. It was an exciting, busy year for her. When I say a lot, I mean A LOT. If you have a few hours to spare you can read/watch all the exciting things that happened to her last year right here:
Kiwi Interviewed in the New York Post…
http://blogs.nypost.com/popwrap/archives/2008/12/house_bunny_int.html#more
http://www.movieweb.com/news/NEyhkzBAygGaBF
Kiwi's Latest Project with Anna Faris…
http://www.hollywoodreporter.com/hr/content_display/news/e3ia94437f59a5754cac8a1cd62fca70830
"Acted By" Interview…
http://www.actedby.com/2008/10/kicking-it-with-kiwi/
Another of Kiwi's Producing Projects Takes Flight…

http://www.variety.com/index.asp?layout=print_story&articleid=VR1117995267&categoryid=13
Saturday Night Magazine…
http://www.snmag.com/MAGAZINE/Destination-Success/Screenwriters-Karen-Lutz-Kirsten-Smith.html
Kiwi on Entertainment Tonight…
Premire Coverage:
http://www.criticalmention.com/vg/condenast/glamour/2008-10-15_cbs_1935.wmv
Behind the Scenes Coverage:
http://www.criticalmention.com/vg/condenast/glamour/2008-10-14_cbs_1936.wmv
USA Today Mention of Kiwi's Short Film…
http://www.usatoday.com/life/movies/news/2008-10-15-reel-moments_N.htm
http://www.usatoday.com/life/movies/news/2008-10-15-reel-moments_N.htm
E Online Mention…
http://www.eonline.com/uberblog/b63945_Jennifer_Aniston_s_Night_Out_for_a_Friend.html
Photos from "The Spleenectomy" Premiere…
http://www.foxnews.com/photoessay/0,4644,5346,00.html
Kiwi's Commencement Address for Scripps College – May 2008…
http://www.scrippscollege.edu/about/commencement/kirsten-smith.php
Los Angeles Times article about Kiwi & Karen…
http://www.latimes.com/business/la-et-scriptland7-2008may07,0,3536711.story
Anna, Kiwi & Karen talk about the House Bunny in the NY Times Sunday magazine…
http://www.nytimes.com/2006/11/12/magazine/12wwln_encounter.html?scp=6&sq=anna%20faris&st=cse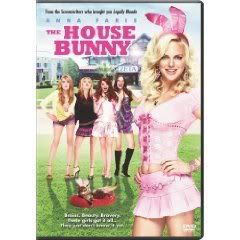 THE HOUSE BUNNY is now available on DVD. I highly suggest that you buy it. For those of you that have been living under a rock, here is the plot:
When Shelly, a Playboy bunny, is tossed out of the mansion, she has nowhere to go until she falls in with the sorority girls from Zeta Alpha Zeta. The members of the sorority – who also have got to be the seven most socially clueless women on the planet – are about to lose their house. They need a dose of what only the eternally bubbly Shelley can provide… but they will each learn on their own to stop pretending to be what others want them to be and start being themselves.
Just to make things easier on you, I'm adding the link so you can purchase this gem right now.
http://www.amazon.com/House-Bunny-Anna-Faris/dp/B0018CNNV2/ref=pd_bbs_sr_1?ie=UTF8&s=dvd&qid=1232229088&sr=8-1